Joining the Survey
We are always looking for new volunteers and new dragonfly records, but we are not always after more preserved (dead) specimens. First and foremost, the Manitoba Dragonfly Survey promotes responsible collecting.
Collecting Specimens
Collecting and preserving some dragonfly specimens is still an essential part of the survey process. Direct examination of specimens by a trained expert is necessary for the identification of certain species. And maintaining a properly housed collection of voucher specimens is important for future scientific reference.
Please read the Specimen Collecting Guidelines or Download the PDF version (36 Kb)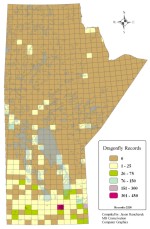 We still require specimens and records from most parts of Manitoba, especially in the north, but we feel that the Winnipeg region has been sampled adequately and we are requesting that people NOT collect specimens here. However, photographic records from the Winnipeg area are still welcomed.
Click the map to view our sampling efforts to date.
Please contact us prior to starting a specimen collection so that we can ensure you have all the necessary information. You can start by downloading our survey handbook (PDF format) from this link:
Download the Manitoba Dragonfly Survey Handbook (3.3 Mb, PDF)
Other downloads: Current Manitoba Dragonfly Checklist (101 Kb, PDF), How to Establish a Survey Site (81 Kb, PDF).
Photographic Records
Photographs are a good, non-consumptive way to participate in the MDS. A picture is as good as a preserved specimen in many instances, provided it is accompanied by all the necessary data (see the MDS Survey Handbook - coming online soon).
Photographic Record Techniques - a good photographic record of a dragonfly specimen should include 2 images, one of the dorsal (top) surface with the wings lying flat and another of the lateral (side) surface. A photographic record should include at least: the date, location (in degrees latitude/longtitude if possible), the collector/photographer's name and a habitat description.

Scanning Dragonflies - a flatbed scanner can be used to obtain images (like the one to the right) from live dragonflies which can then be released back into the wild. Follow the techniques outlined at the Digital Dragonflies web site.

And be sure to check out the marvelous scanned images they have: Digital Dragonflies Catalogue.
Submit Your Data
Please send your data and specimens to:
Dragonfly Survey
Manitoba Wildlife and Ecosystem Protection Branch,
Box 24, 200 Saulteaux Crescent,
Winnipeg, MB R3J 3W3
Telephone: 204-945-7465 email: James.Duncan@gov.mb.ca
If you are emailing images, please limit them to JPEG format no larger than 800 x 600 pixels, and remember that emails totaling more than 2 or 3 megabytes are difficult for mail servers to handle. Consider burning your images to a CD and mailing this to us if you have many images to submit. Thanks.
Return to The MDS page