Fall Colours in the Classroom!
| | |
| --- | --- |
| By Johnny Caryopsis | (Click links for more images.) |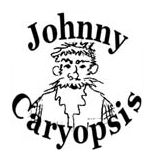 In Manitoba, the end of the growing season corresponds to the start of the school season. The greenery that we have grown accustomed to all summer undergoes a sudden and dramatic transformation. As leaves change colour and fall from trees they attract our attention.
In the class room or at home, there are lots of ways to emphasize and take advantage of the natural phenomenon of fall colours. We've put together a few ideas for you to try out. If you have any suggestions for activities, projects or crafts related to this topic, please let us know at: email NatureNorth, and we'll add them in.
---
Some Leaf Basics
What is a Leaf?
What are the basic parts of a plant? Answer: root, stem, flower and leaf. Roots anchor a plant to the ground and draw in water and nutrients. Stems and branches support the other above ground structures and contain the "circulatory system": the tubes that move water up from the roots and food and nutrients down from the leaves. Flowers allow the plant to reproduce itself and participate in the evolution of the species. Leaves are the food producing factories of plants. (Actually, all parts of plants do way more stuff than this, but let's keep it simple for now!)
A leaf is usually a thin, flexible sandwich of plant cells. The outside, the "bread", has waxy cells, to help keep moisture inside the leaf, but it also has holes, called stomata, that allow for the exchange of gases for respiration. Plants "breath in" carbon dioxide (CO2) and "exhale" surplus oxygen (O2), through the stomata, which are mainly on the underside of the leaf. The "meat of the sandwich", between the outer waxy cells, consists of various arrangements of cells that perform photosynthesis, that miraculous process of combining water and carbon dioxide via the energy of sunlight to make simple sugars. Leaves may be the boring greenery around us all through the growing season, but they are the dynamos that drive the processes of life, and the basis for all terrestrial food webs.
Getting Ready for Winter
Why do leaves change colour and fall? The short answer is that the plants are getting ready for winter. The leaves die in an orderly fashion, a process called senescence, and their contents are recycled by the plant. The long answer involves evolutionary adaptations to conserve water and avoid frost damage, photo-period changes, and photosynthetic pigments. Check out our Fall Colours article, in this issue, for more of the technicalities of fall colours and falling leaves.
---
Activities
Leaf Collections
Collecting and preserving leaves is a class room activity with a long history. There's nothing new-age about leaf collections. But with today's new emphasis on biodiversity, it is an activity that has great merit. A hands-on, close-up experience with leaves from many different plant species is a great way to introduce kids to the variety of life within the plant kingdom. And in the fall, leaves are just lying there on the ground to pick up. You don't have to "hurt" the plants to collect them!
Do you need to be able to identify all the plant species by their leaves to make leaf collecting worthwhile? I don't think so. The key to introducing the notion of biodiversity is to get kids, and people of all ages, to recognize the similarities within individuals of one species and the differences from one life form to the next. While it is rewarding to develop the skill of individual species identification and recognition, it is not something that develops overnight. It takes a lot of time and practice to become a skilled plant identifier, but that doesn't mean that you can't start teaching the basic skills of plant identification. People have to start somewhere. At the end of this article you'll find a list of some books that can help with leaf identification.
Doing the Collecting
Leaf collecting can be as orderly or as chaotic as you'd like, but here are some things to bear in mind.
Don't collect leaves when they are wet, either after a rain or a heavy dew. Wet leaves will be too messy to deal with and more likely to rot.


Don't collect too many leaves, you only need a few for all the various demonstrations, and you'll have to deal with the mess of too many, and dispose of the excess.


You may want to assign certain students or groups to collect only leaves of one kind of plant, while trying to find leaves that show as much variation as possible within that species.


Conversely, you could assign certain students to collect only one representative leaf from as many different kinds of plants as they can find.
Collecting leaves from different locations can be revealing. Students could collect leaves from the school yard, a local park or natural area, or from near their homes.
Are there different kinds of leaves in different locations?


Are there more different kinds of leaves in one location versus another?


Can you relate this to biodiversity within the school yard and other sites?
Assessing Your Leaf Collection
Comparing one leaf to another is the simplest way to address identification and biodiversity.
What is different about two leaves that you have?


What is the same?


Are these leaves from two different species of plant or just different shaped or coloured leaves from the same species?


How many different colours and shades occur in each type of leaf?


What characteristics let you distinguish between certain species of leaves, and which are diagnostic of a certain species?
Here are some characteristics to look for in each kind of leaf.
| | |
| --- | --- |
| Shape | There are many formal names for the various shapes of leaves. You may want to consult one of the plant guides listed below, or just make up your own terms. |
| Size | The size (length and width) of the leaves will vary a lot from plant to plant, especially in young trees! |
| Leaf Margin | The edge of leaf may be toothed, smooth, wavy, or have other recognizable characteristics. |
| Compound or Simple | Some leaves are subdivided into what looks like several smaller leaves or leaflets - an example would be Black Ash, while others are clearly just one entire leaf - an example would be Beaked Hazel. |
| Texture | There may be hairs, spots or bumps on the leaf. The leaf surface may be rough or smooth. |
| Colour | The colour and patterning of a leaf in both the growing season and in fall is often characteristic, but can be highly variable, too. |
Techniques For Pressing And Preserving Leaves
Leaves and entire plants can be pressed and preserved indefinitely, as long as they are kept cool, dry and out of strong light. Pressed, dried leaves can also be used to make attractive decorations. A plant press for use in pressing leaves or entire plants is easy to make.
Collect some corrugated cardboard and cut it into sheets about the size of a folded piece of newspaper. Gather some newspapers, too.


Place a sheet of cardboard on a flat, firm surface in an open, airy location. Open a sheet of newspaper and place it onto the cardboard.


Place some leaves, or an entire plant, onto the newspaper. Arrange them so they do not overlap. (Do not use wet leaves or plants!)


Fold the newspaper over top of the leaves and place another sheet of cardboard on top of the newspaper.


Set another piece of newspaper on top of this and repeat the process, building up a series of cardboard and newspaper "sandwiches" containing the leaves.


Finally, place a flat board on top of the pile and place some heavy object on top of this to press down on the whole array. Or, you can use two boards, the size of the cardboard sheets, on either side of the "multi-layered sandwich" and use some string or belts to cinch the whole pile together.
Keep your plant press somewhere dry and airy, but not too warm. Don't leave it in a sunny window. If the temperature is too high, the leaves may rot before they are thoroughly dry. Leave the press for at least one week, then check to see if the leaves are dry. Open the plant press and examine the leaves in the top sandwich. If they are thoroughly dry, you can disassemble the press and use the leaves for further examinations or in projects.
Another way to preserve leaves, which is particularly good for maintaining fall colours is to iron them between sheets of waxed paper. Cut some sheets of waxed paper to whatever size you need. Place some leaves between 2 sheets and iron them gently, on top of a smooth, hard surface - that can take the heat of an iron! Make sure the leaves are fairly dry to begin with - don't iron wet leaves! The wax sheets will fuse together and make a sheath for preserving the leaves for a long time. The wax paper helps to reinforce the brittle leaves and allows you to handle the sheets without directly handling the leaves. For the best long-term preservation of fall colours you must still keep the sheets of leaves out of strong light.
Carry on for More About Fall Colours in the Classroom!

---

You can help NatureNorth produce more great articles with a secure donation through PayPal. Our Google Adsense ads pay our server costs, but that's about it. To learn more follow this link: Support NatureNorth. Thank-you!

---
Return to: Fall Issue | NatureNorth Front page