---
Chasing Nature: An Ecologist's Lifetime of Adventures and Observations. By Robert E. Wrigley, PHD.
---
NatureNorth enthusiasts will be interested in a new 367-page book published by Winnipeg ecologist, Dr. Robert E. Wrigley.
Chasing Nature: An Ecologist's Lifetime of Adventures and Observations is 230 short stories covering seven decades of the author's life.
Chapters deal with:

- growing up in Buenos Aires, Argentina and St. Lambert, Quebec,

- student years at McGill University and the University of Illinois,

- serving as the Curator of Birds and Mammals and later the Museum Director at the Manitoba Museum of Man and Nature,

- serving as the founding Director of the Oak Hammock Marsh Interpretive Centre near Stonewall,

- serving as Curator at the Assiniboine Park Zoo,

- and finally research during years in retirement.
---
Topics range widely and cover over 750 species of wildlife (from insects and amphibians to birds and mammals), plants (mosses and lichens to orchids), fungi, as well as fossil life and captive animals such as Golden Takin, Polar Bear, Steller's Sea Eagle, and Red-tailed Catfish.
A chapter is dedicated to critical human challenges -- human overpopulation, territorialism, pandemics, environmental degradation, climate change, and wildlife extinction.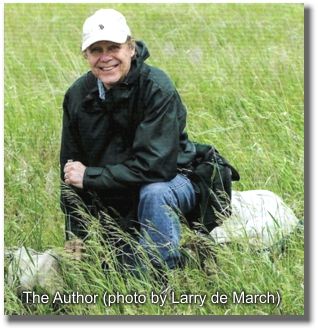 Robert relates exciting (and sometimes humorous) episodes experienced while conducting ecological research across North and Central America and Europe, and even in his back yard in Winnipeg. His close encounters with wildlife provide glimpses of these organisms' lives and ecology, and reveal his deep passion and respect for the natural world. He stresses that the preservation of remaining biodiversity, and indeed the future of our own species, are completely dependent on regaining a balance with Nature.
The book concludes with 118 nature quotations by 75 famous natural-history philosophers, naturalists and scientists, arranged chronologically from 600 BCE to the present time.
The book is richly illustrated with 130 images prepared by Manitoba photographers and artists, featuring 25 cartoons by Rob Gillespie, and colourful cover portraits by Autumn Lough. The book is printed on quality glossy paper and with premium colour.
---
Get your copy!
A signed copy may be purchased for $55.00 (Canadian) by emailing Robert Wrigley or calling 204-831-5209.

Canada Post charges $16 to mail this large, heavy book. For mail orders the total cost would be $71.00 (Canadian).
---
Return to: Summer Issue | NatureNorth Front page