Though this issue has been resolved, these pages will remain online as a permanent archive.
---
Some final thoughts (October 2020):
We were successful in having Parks withdraw plans for the Cottage Light Industry Storage Sites (CLISS) just south of Star Lake, Blocks 4,5,6 in Whiteshell Provincial Park. However, this information will remain in this archive permanently as a record of events and as a reference in case of future issues or other inconsiderate plans or proposals. We won because we kept each other informed, and we all stood up and spoke out to protect OUR backyard.
Manitoba Parks has a history of acting unilaterally without the knowledge or support of Star Lake cottagers (more background info to come!). They need to change the way they deal with local cottagers. The "benevolent overlord" approach has no place in the 21st century.
I urge all Star Lake cottagers to remain vigilant and hold Parks to account on all issues, plans, and proposed developments. If you are not already on the Star Lake Cottagers Email Contact Group please send me your email address:
Thanks and bye for now, Doug Collicutt
---
Star Lake
SAVED

from:
Parks' Proposed: Commercial Light Industry
and Storage Sites at Star Lake
We did it, folks! Thanks to everyone
that stood up for Star Lake!
Information and Suggestions for Star Lake cottagers
(Latest update - Oct. 8, 2020), Prepared by Doug Collicutt, Lot 7, Block 6, Star Lake
I was proud to be your spokesperson on this issue, but this was a total group effort! We saved Star Lake from this ill conceived proposal, now I'd like to use this website to celebrate Star Lake! Watch for upcoming changes and additions. Bye for now.
---
This just in: Parks has officially rescinded
the proposal for CLISS sites at Star Lake!
Here is the text of the letter:
"Parks and Protected Spaces Branch
Box 51, 200 Saulteaux Cres.
Winnipeg MB  R3J 3W3
October 6th, 2020
Dear Lot holder:
I would like to take this opportunity to advise you on the status of the Commercial Storage and Light Industry proposal for the Star Lake and McDougall's Landing area in the Whiteshell Provincial Park.
I am pleased to advise you that the department is now officially withdrawing the proposal for the two locations mentioned above.  We fully understand the concerns expressed by cottagers, such as yourself, especially concerns regarding public safety and the ongoing need of cottagers for recreational access to these areas.
Instead, staff are now focused on immediate next steps and process in determining appropriate storage lot alternatives for registered Cottage-Based Businesses (CBBs). This process will involve the establishment of a working group involving representatives from both the area association of CBBs and the Whiteshell Cottagers Association in an effort to collaboratively determine suitable site selection criteria for storage lots and, ultimately, best location options for such developments. It is fully intended that this process will achieve an effective resolve of this matter and the timely establishment of storage lots in near future with the input and support of area cottagers.
Thank you for your attention to this matter and taking time to forward your concerns, knowledge and genuine appreciation for these areas of the park.
Sincerely,
Dale Sobkowich
Head of Commercial Policy, Planning and Programming
C:  Kerry Davies, President WCA
Kathy Blanchard, Manager of Cottaging and Commercial Development"
---
You can download the letter as an MS Word Document or as a PDF.
---
On behalf of all Star Lake cottagers I submitted the following email to the Minister of Conservation and Climate, and to Parks' Planning on September 21, 2020.
Star Lake Cottagers REJECT Parks'
Proposed CLISS Development!
To: The Honourable Sarah Guillemard, Minister of Conservation and Climate
To: Dale Sobkowich, Head of Commercial Policy, Planning and Programing, Parks
And others
I am writing today, not as an individual, but as the spokesperson for Star Lake cottagers opposed to Parks' proposed Commercial Light Industry Storage Sites (CLISS) located just south of Blocks 4, 5 & 6 at Star Lake, Whiteshell Provincial Park. Star Lake cottagers have demonstrated overwhelming opposition to this proposal. At our public meeting on Sept. 5, 2020, more than 90 people showed up to voice their opposition. A formal petition opposing the proposal, initiated at the meeting, (submitted to Parks Sept. 17, 2020) contains 198 signatures. An online petition, also established in opposition to this proposal now has 343 signatures and climbing. More than 30 individual cottagers have written directly to Parks with their opposition. The reasons for our opposition are many and have been well documented in the letters sent to Parks and are laid out on our website, www.naturenorth.com/StarLake/index.html. There is no need to restate these here.
Star Lake cottagers have rejected the use of the Star Lake site for the proposed CLISS. We now expect to receive official notification, in the form of a signed, dated letter, that Parks has rescinded this proposal. We do not accept Parks proposal to "extend the consultation period indefinitely". Star Lake cottagers deserve the peace of mind that only cancellation of this proposal will bring. We should not have to wait for months over the winter still wondering if Parks wants to send the bulldozers into our backyard. We expect to receive appropriate notification before the Thanksgiving long weekend, often the last chance for many cottagers to get together and discuss matters before winter sets in.
We also ask that the Minister encourage her staff to pursue a just resolution of this issue for the Cottage Based Businesses (CBB) located in Whiteshell Provincial Park. We understand that the CBB have been lobbying for a number of years (as much as ten years?) to develop such storage sites to support their businesses. Cottagers are not opposed to CLISS being located in the Park, but these must not be located adjacent to cottage subdivisions. In our rejection of this proposal we do not want to see any other cottagers subjected to the distress and anger that we have suffered. A piecemeal site by site attempt by Parks to establish these CLISS (as we have come to understand has been the process) is unacceptable.
We thank the Minister for her efforts and support on our behalf.
Doug Collicutt, Lot 7, Block 6, Star Lake, Spokesperson for Star Lake cottagers opposed to Parks' proposed CLISS "
P.S. Now, can we please go back to just enjoying the peace and quiet of Star Lake? (No, I didn't send that to the Minister, I just added it here.)
---
Please read the letter below from one Cottage Based Business owner!
Deadline for Feedback is Sept. 18!
Please keep sending in your letters/emails and petitions! We cannot stand down until we have received a signed letter from Parks rescinding this proposal!
---
***

Petition Submitted, Sep. 17, 2020!

***
Our hard copy petition opposing Parks' proposed CLISS development at Star Lake has been submitted. It contains the names of 198 people opposed to this proposed development. You can download it from this link:
Star Lake Petition Opposing Parks' Proposed CLISS Site at Star Lake
Thanks to Nadine Gustavson for her work on the petition!
And here is the current state of the online petition, with 343 signatures:
Star Lake Online Petition Signatures
Thanks to Jens Giesbrecht for his work on the online petition!
---
Please feel free to contact me at Doug Collicutt, (that's dcoll@mymts.net) I will be happy to include your suggestions or comments. If you wish to be included in an email update group regarding this proposal just email me at the above link. Thanks.
---
*** Hey, now we have an online petition, too, Thanks to Jens Giesbrecht! ***
---
UPDATE: It has recently come to our attention that this is Parks' 3rd attempt at putting in these storage sites in south Whiteshell. Similar proposals by Parks have already been rejected by locals at Falcon Lake and Barren Lake! We'd like to see the records relating to previous rejections, please.

---

Website Statistics

As of Sept. 28 there have been 3,310 page views within the Star Lake website.

PUBLIC MEETING!

Saturday, Sept. 5, 11:00 a.m. by the volley ball court, main beach to discuss and plan actions regarding Parks Commercial proposal.

---

We had a great meeting on Saturday, 90 of our neighbours attended! Follow this link for:

Star Lake web site to remain!

And when this is all over folks, I want to keep a Star Lake web site going, somewhere we can all use as a forum for all things Star Lake, and as a rallying point for any future issues or problems. Yes, there is a Star Lake Face Book page, too, but this web site could be a more formal place to develop, share and archive information of all sorts.
---
Sept. 12 UPDATE
On Sept. 11, I received the following email with additional information on the eligibility requirements and standard conditions required for the proposed storage sites:
---
Hello Doug:
First off, let me thank you for your interest and participation in the consultation currently underway regarding the proposed light commercial storage lots near Star Lake in the Whiteshell.  On behalf of the Parks and Protected Spaces Branch, please let me assure you that we are respectfully and carefully reviewing all of the comments received during this transparent process.  I want to reiterate that this is not a "done deal" and no decisions have been made on the project at this time. 
Further to this, I'm pleased to advise you that we have now extended the consultation period indefinitely in order to more fully allow all those who are interested in this process, including cottagers, to participate in the consultation process.  Attached you will find some additional detailed draft material laying out some of the specific obligations and requirements for registered Cottage-Based Businesses if a site were to be approved in the future.  You may find this information helpful in better understanding the scope and nature of the proposal.  Again, let me reiterate that no decisions have been made as to the project itself, and we will continue to evaluate all comments and input received from yourself and your fellow cottagers and other important stakeholders. 
 It would be appreciated if you could assist the department in communicating this information to your concerned neighbours.  Please feel free to reach out if you require further information.
Thanks again.
Kathy Blanchard, Manager of Cottaging & Commercial Development
Department of Conservation and Climate
Parks and Protected Spaces Branch
Box 51, 200 Saulteaux Cres. Winnipeg MB R3J 3W3
---
Here are links to the documents mentioned above.
I know this is additional information that a number of our neighbours have requested. Please note the date on the Eligibility Requirements and Standard Condition documents: February 21, 2020. We received the letter from Parks more than 6 months after this process was begun.
And, by the way, here's a broader view of the Parks proposed "remote site" at Star Lake, showing how close it really is to cottages. Nice of them not to have included that in the map they sent us!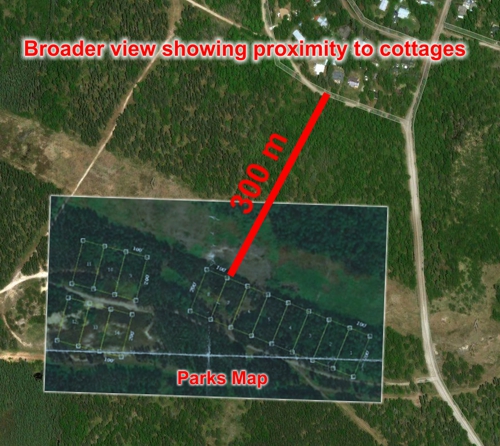 Manitoba Parks is proposing a commercial development on the site of the old landfill just south of Star Lake. You can learn more about this here or on the Star Lake Face Book page. Cottagers have begun to receive letters from Manitoba Parks outlining this proposal. Prior to this no one at Star Lake knew anything about this project! Why were we not asked for our opinions at the early planning stages? It's OUR park and OUR backyard, why no prior consultation?
Personally, I am very angry about this proposal and want it stopped, but I do want to hear the opinions of my neighbours. I believe in seeking out the opinions and input of others. And I want to know why Parks did not come to us first, instead of making deals with a commercial special interest group.
If you, like me, are opposed to Parks proposal it is not too late to stop this development, but you must act promptly, you must let your voice be heard. We all must get involved. Doing nothing is NOT an option! Do not just hope that your neighbours will bear the brunt of this fight, do your part. Please send letters/emails to those in power at the addresses below to express your concerns. Talk to your neighbours to make sure they know what is being proposed.
Follow this link to read some of my thoughts, and some of your other neighbours:
---
Remember, the deadline for feedback
to Parks is Sept. 18, 2020!
Now some doubt about the current dealine?
Why the rush? Have they got bulldozers lined up for October?
---
Please contact the following:
And please forward or cc your letters to me so they can be posted on this site. Ii you don't want to do this that's fine, but I think it will help encourage others to get involved. I will put links to all these emails at the bottom of this page. I will remove personal contact info from the letter if you choose. Thanks.
Even if you think Parks is just "testing the waters" with this proposal, please remain vigilant and send in your letters and emails.
---
Manitoba's Premier, Brian Pallister: Email premier@leg.gov.mb.ca   @Brian_Pallister
Phone: 204-945-3714 Fax: 204-949-1484
204 Legislative Building 450 Broadway Winnipeg, MB R3C 0V8.

It never hurts to go right to the top!


---

Sarah Guillemard, Minister of Conservation and Climate

Phone: 204-945-3730, Fax: 204-945-3586, Email mincc@leg.gov.mb.ca


---

Rob Nedotiafko, Director of Parks and Protected Spaces: Rob.Nedotiafko@gov.mb.ca

---

South Whiteshell Park District Manager: is Keith Hood. He can be reached at the Falcon Lake Parks offices, Phone: (204) 349-2201

---

Dale Sobkowich, Head of Commercial Policy, Planning and Programing, Parks: Dale Sobkowich

This is the fellow listed in the letter we all got. Make sure you reply to him directly, but ALSO to the Minister. Feedback to the Minister's office ensures our concerns will be heard.
---
Star Lake Cottagers Letters/Emails to Parks Planning
---
Great responses so far folks! But keep it up! We can't stand down until
we have a signed letter from Parks rescinding this proposal!
Return to: Top of page